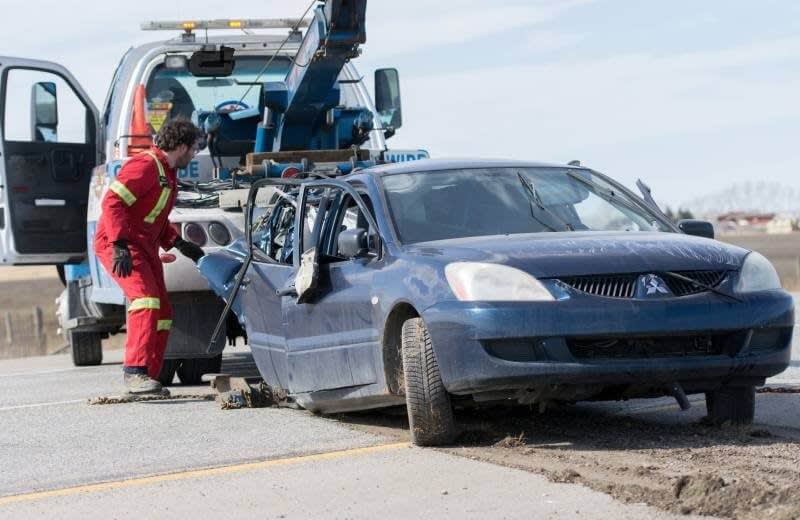 What You Need to Know About Towing & Rental Car Charges After a Crash
---
Who Pays Towing and Rental Car Fees After an Accident?
If you're in a crash and your car is badly damaged, chances are it was towed to a salvage yard where it starts racking up daily storage fees. A typical tow fee is $100 and an impound lot / storage yard can charge $20-$30 per day (sometimes more) for storing your vehicle. Then there's the costs of getting a rental car while your car is in the salvage yard. If the crash is not your fault, you might expect that the other person's insurance is going to pony right up without much dispute or delay.
Unfortunately, it's not that simple. Don't expect the other driver's insurance company to make this process quick or easy. They might deny fault even though fault might seem crystal clear to you, your attorney, and even the investigating police officer. If that's the case, it might be a very long road before they are forced to accept fault. Even assuming they admit fault for the crash, it might take them several weeks, or even longer, to inspect your vehicle, complete their evaluation, and finally determine a fair value for your car. In the meantime, your car is racking up storage fees and you are also racking up rental car fees.
So What Are My Options?
If your car is driveable, you can pay the tow yard to get your car out and stop the daily fees. But if your car is so damaged that it's not driveable, this probably isn't a realistic option. Either way, you shouldn't move or even touch your car until the other driver's insurance has had a chance to inspect the damage and take their own photos. You don't want them questioning where any of the damage came from. So your best bet is to let it sit at the tow yard and let the other driver's insurance company know that you're just waiting on them. After the insurance company has inspected it, and if your car is driveable, you probably want to pay the balance and get your car out of the storage yard. You can get reimbursed by the insurance company after they complete their evaluation. But if your car is not driveable, all you can do is wait for the insurance company to complete their evaluation and then (most likely) take title of your car in exchange for a settlement check.
As for the rental car fees, if you need to get to work you don't have much choice except to pay for a rental car upfront and worry about getting reimbursed later by either the other person's insurance, your own, or both.
Can My Own Insurance Help?
If you have full "collision" coverage on your own car policy and the other driver's insurance is taking too long to reimburse you or pay these invoices, you have the option of paying the deductible and having your own car insurance take care of the car repairs, as well as the towing, storage, and rental fees (as long as your policy covers these expenses). Your own insurance will generally pay you faster than someone else's insurance will pay you. Don't worry about it not being fair, your own insurance will go after the other driver's insurance company to get themselves and you reimbursed (for the deductible you paid out of pocket), generally without you having to get involved at all.
Insurance Company Reimbursed Some but Not All, What Next?
Assuming the other driver's insurance eventually accepts fault, they will most likely only pay for the reasonable towing, storage, and rental car charges. And it's not what you think is reasonable, it's what the insurance company thinks is reasonable and often depends on the specific adjustor handling your case. Here are some examples of when they might not reimburse you for all of your actual costs:
if your salvage yard charges twice as much as anywhere else in town,

if the adjuster gives you permission to move your vehicle out of storage but you do nothing for several weeks, or

if you've reached the maximum amount of reimbursement spelled out in the terms of the other driver's insurance policy documents.
If you still have out of pocket charges that were not reimbursed after all the dust settles, you may be able to claim the remaining expenses as part of a personal injury claim (assuming you were injured in the crash).
Do I Need an Attorney?
Not necessarily, but you'll need lots of patience and a careful reading of the insurance policy language. What an insurance company pays in rental, storage, and towing fees is based almost entirely on the language in the policy documents. If you're involved in a serious crash, the last thing you probably want to be doing is fighting over whose fault it was or over the meaning of a few terms in a 50 page insurance policy document. If this does not sound like fun to you, call a personal injury attorney…we live for this boring technical stuff! But even if you don't want to hire an attorney, call Denver / Aurora based Gama Law Firm anyway and we can discuss your specific situation and offer you some free advice.